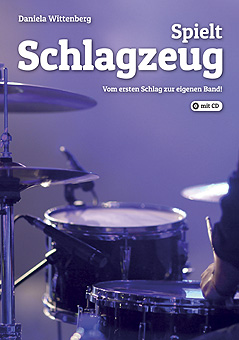 Drumset-book "Spielt Schlagzeug"
"Spielt Schlagzeug" is part of my drumset-lessons. It offers all you need to begin with drumming. You will find it easy to understand and it will lead you through all parts of drumset playing within Rock-Music and more. The accompanied CD contains all exercises in the book and as a bonus 3 Play-Along-Tracks which you can Play with. For your drumset lesson or if you learn by yourself: With "Spielt Schlagzeug" you will have fun learning how to play the drums. You can order it here for no extra charge. "Spielt Schlagzeug" cost € 23,50.
---
---
"Spielt Schlagzeug"
Please press Order and fill out the form. You will then get a mail with our bank account. Please pay € 23,50 (plus € 2,50 shipping costs) to this account and we will send you your book. Thank you !